Inspector
qooxdoo Inspector is a powerful development tool perfectly suited for live debugging and modifying qooxdoo applications.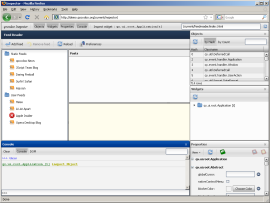 See it in action, debugging the qooxdoo feedreader demo application.
If you know the Firebug extension for Firefox, you will be familiar with most of Inspector's capabilities. But it is much more than that: Since it is a qooxdoo application itself, it runs in all major browsers, including IE, Firefox, Opera, Safari and Chrome. And it allows for truly qooxdoo-specific debugging, including displaying the UI hierarchy and modifying the properties of qooxdoo widgets.