The qooxdoo Test Runner
"Test Runner" is a unit testing framework that fully supports testing qooxdoo classes. It is similar to but does not require JSUnit or any other JavaScript unit testing framework. If you look at the component section of a qooxdoo distribution under component/testrunner/, you will find the Test Runner sources, together with a mockup test class. In the framework/ section you can create a Test Runner instance with all test classes from the qooxdoo framework by running:
Test Runner provides a convenient interface to test classes that have been written to that end. You can run single tests, or run a whole suite of them at once.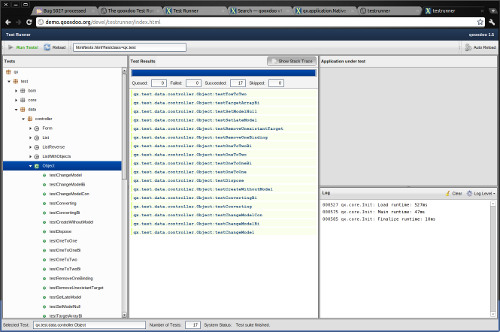 The Test Runner framework can also be deployed for your own application. It provides a GUI, a layer of infrastructure and a certain interface for arbitrary test classes. So now you can write your own test classes and take advantage of the Test Runner environment.
How to deploy Test Runner for your own development
This section assumes that your qooxdoo application bears on the structure of the qooxdoo skeleton application. Then this is what you have to do:
Portable Test Runner
A stand-alone version of the qooxdoo's unit testing sub-system, requiring no compile step and with no external dependencies. It comes in the form of a single .js file that can simply be added to an HTML page along with the code to be tested and unit test definitions (as inline JavaScript).
Its main purpose is to provide a comprehensive unit testing framework including Assertions, Sinon, Requirements and a Test Runner GUI to developers working on non-qooxdoo JavaScript applications.
Example
The fictional non-qooxdoo JavaScript library foo.js provides a Bar class, with a constructor that takes a string parameter. This test checks if the getName method returns that string:
<!DOCTYPE html>
<head>
  <meta http-equiv="Content-Type" content="text/html; charset=utf-8" />
  <title>Test Runner</title>
  <script type="text/javascript" src="http://localhost/testrunner-portable.js"></script>
  <script type="text/javascript" src="http://localhost/foo.js"></script>
  <script type="text/javascript">
  testrunner.define({
    __bar : null,

    setUp : function() {
      this.__bar = new foo.Bar("baz");
    },

    testName : function() {
      this.assertEquals("baz", this.__bar.getName());
    }
  });
  </script>
</head>
<body>
</body>
</html>
The important thing to note here is the map argument for testrunner.define: It's equivalent to the members section of a class extending qx.dev.unit.TestCase and including qx.dev.unit.MMock and qx.dev.unit.MRequirements, allowing full access to these APIs. Multiple test classes can be defined by additional calls to testrunner.define.
The Portable Test Runner can be downloaded from the Demo section of the qooxdoo website, or generated from within the SDK:
cd component/testrunner
python generate.py -c portable.json build