Tutorial Part 4.2.1: Basic Theming
This time, we continue with a very exciting topic for the tutorials: Theming. As you might already know, the theming system in qooxdoo is not based on CSS which means you, as an application developer, don't have to bother with cross browser CSS. The qooxdoo framework takes care of all that for you. As a base for theming an app, we use the already known twitter client we built in the former tutorials. On the left is a picture how it should look to get you started. The the code of the tutorial on GitHub.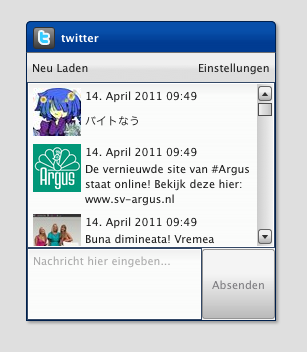 The plan
Giving the whole application a new look is too much detail and work for such a short tutorial. We concentrate on some basic key aspects which are important to get you an idea how to use the theming system and get you started. So I picked three basic tasks we could do to make the app look different.
Style the widget we created for showing tweets.
Change the default theme.
Change the look of a built-in widget
Lets get started with the first one:
Change the default theme
As a next step, we want to change the default theme, which is the Modern theme, to the new Simple theme we recently shipped with the 1.4 release. For that, we have to take another look at the files in the theme folder. You might have already realized that all these files do have an "extend" key which extends from the Modern theme's files. Thats what we are going to change now. Just open all the files in the theme folder and change the extend key from qx.theme.modern.xyz to qx.theme.simple.xyz with xyz as a placeholder for the name of the file you are editing. There is only one file you don't have to change which is the meta theme named Theme.js. It does not refer to the framework theme so there is nothing to change. With that change, we included new dependencies to classes and resources which means, we have to rebuild our application. Run ./generate.py in the root folder of your application to rebuild the development version of the twitter application. After the process is done, we can reload the application and see a dramatically changed application using the Simple theme.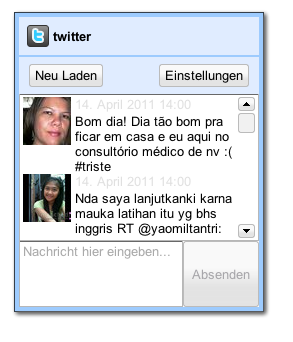 Job done
With the last step, we have finally managed to change the three basic things we wanted to change. If you are interessted in more details about the theming possibilities in qooxdoo, check out the manual for more information. As always, the code of the tutorial is on GitHub.